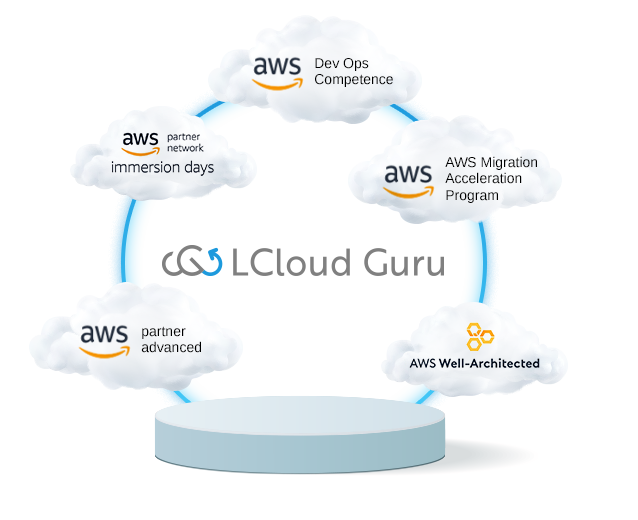 Benefit from LCloud Guru's experience and know how
With the numerous cloud projects we have completed, we can meet the technological needs and expectations of the most advanced customers.        We manage hundreds of customer environments in the cloud, so we have the opportunity to see and solve problems that a team working in                     a homogeneous environment may not. We have the luxury of focusing exclusively on cloud services, so our experience with even the most advanced services is unmatched by any inhouse customer team.
Discover how our services can help your business
With our cutting-edge technology and expert support, we empower businesses to reach their full potential. Decide where you want to take your business, and we will make sure the technology supports it.
We accompany our customers through every stage of cloud adoption. We specialize in building and deploying cloud services. We provide cloud consulting services as well as support and monitoring of implemented solutions.
"There is no compression algorithm for experience" Andy Jassy – CEO Amazon.com

15
Years of cloud experience


50+
Cloud certifications and accreditations
Take a look at what you can achieve with us

Increase efficiency and minimize costs
With AWS, we provide customers with high availability, scalability, and security. We reduce time to market through technology. We automate IT processes using DevOps services. We know process automation: IaC, CI/CD, containerization and microservices, security and monitoring, and FinOps and GreeOps. We provide customers with peace of mind as we also support and monitor infrastructure 24x7

We speed up
the time to market
By fully outsourcing cloud services, we accelerate time to market by allowing customers to focus on developing their products and services. We give customers the freedom to focus on their business by taking full responsibility for developing, updating and optimizing their cloud environments so that the technology keeps pace with their business growth. We provide customers with peace of mind because we monitor, support and ensure high availability of environments 24x7.
Our experts are well-versed in the ever-evolving and technically complex AWS cloud technologies. They bring their knowledge and experience to help customers innovate at every stage of their cloud journey. The competence of the team is confirmed by a number of certificates, such as the following: AWS Certified Solutions Architect Associate and Professional, AWS Certified Developer  Associate and Professional, Advanced Docker Operations, Certified Advanced Networking and Security Specialty, HashiCorp Terraform Associate.
Be inspired by how we helped others reap the benefits of the cloud.
Take a look at who we have convinced to use cloud computing with us.